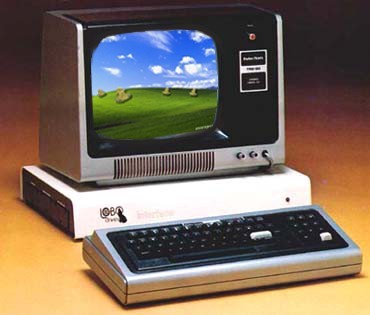 My Computer... now with Windows XP!
[System Info] Windows 2000 Professional, Service Pack 2 (5.0 - 2195)
|INSTALLED|: 8/29/2001 23:01 CST
|MEMORY|: 512MB PC2100 DDR (2 x 256MB)
|CPU|: 1-AMD Thunderbird, 1506MHz, 256KB Cache
|MB|: Epox 8K7A+ Raid, FSB137 AGP4x
|RES|: 1024x768 32bit 85Hz via Hercules KyroII 4500 64MB
|CAPACITY|: 80GB Raid 0 (2 x 40GB IBM Deskstar 7200RPM)
|NIC|: #1 (Linksys LNE100TX Fast Ethernet Adapter(LNE100TX v4) NDIS5 Driver (100Mb/s) 778.31MB In, 32.43MB Out)
|FREE SPACE|: 46.72 GB of 80GB ( 60.93 % )
|Temps & RPM's| Case Temp: 30°C, 1 Athlon 1.4Ghz, CPU(1): 44°C, Fan(1): 7500RPM, Fan(2): 2393RPM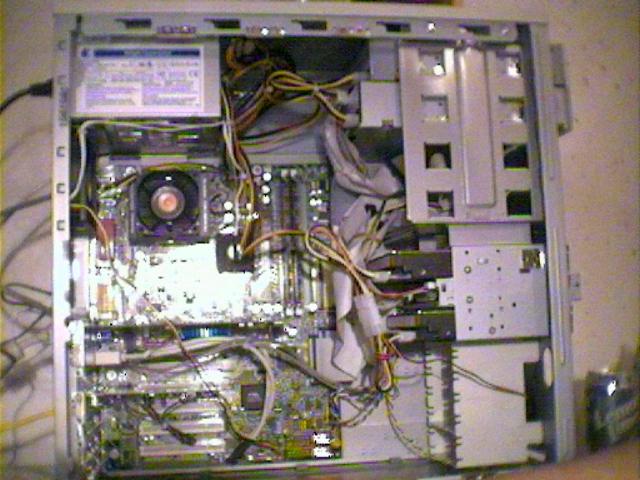 This is side view of my 1.4Ghz Athlon AYHJA Y Week 26 @ 1.5Ghz
You can see the 52X Sony CDRom, the 8-4-32 HP Burner, (2) 40GB IBM Deskstar 60GXP 7200 rpm drives, and Mitsumi Floppy
The cards are the Hercules Kyro II 64MB, Linksys LNE100TXv4, and USB Ports.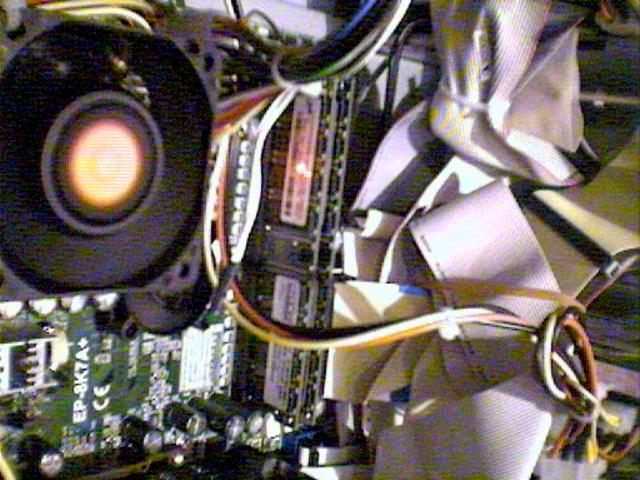 Here you can see 512MB of Crucial PC2100 DDR, and the Volcano 6cu+ HSF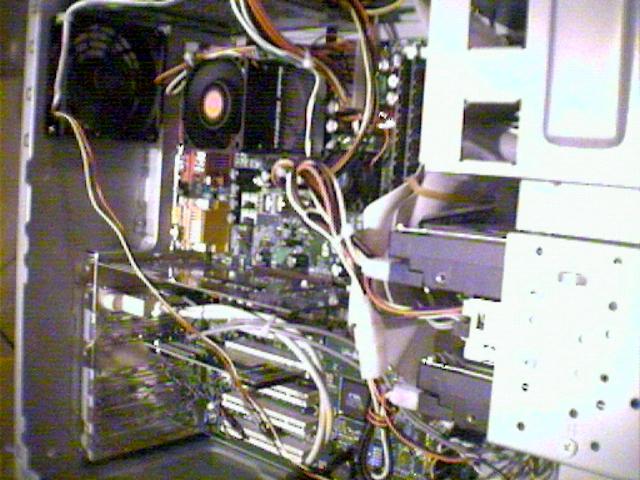 See how nicely the cables are bundled for maximum airflow!
Next project: Round Cables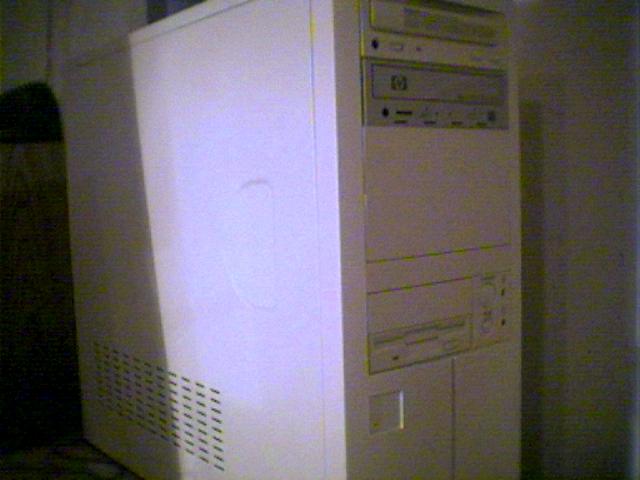 My spiffy case with no case badge... AMD is mailing them out to me.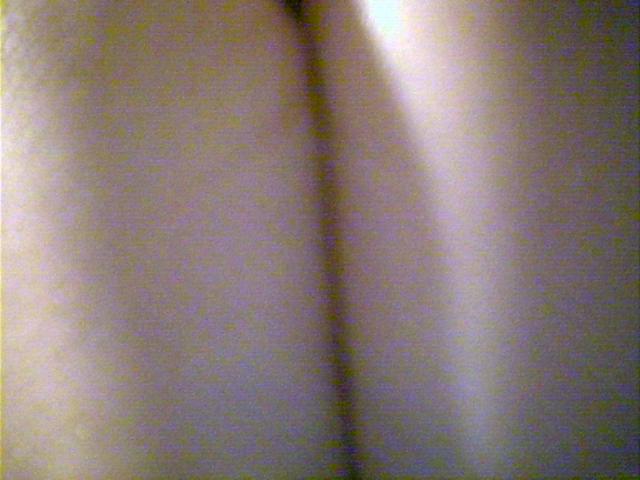 That's not really my ass, it's my palms together :o
[System Info] Windows 2000 Professional, Service Pack 2 (5.0 - 2195) |INSTALLED|: 8/29/2001 23:01 CST |MEMORY|: 512MB PC2100 DDR (2 x 256MB) |CPU|: 1-AMD Thunderbird, 1506MHz, 256KB Cache |MB|: Epox 8K7A+ Raid, FSB137 AGP4x |RES|: 1024x768 32bit 85Hz via Hercules KyroII 4500 64MB |CAPACITY|: 80GB Raid 0 (2 x 40GB IBM Deskstar 7200RPM)
<Pablo`sleep> [System Status] All Systems Operational |MEMORY|: Usage: 181/512MB (35.35%) |UPTIME|: 6h 18m 34s since last boot; Record is LONG TIME! |DIALUP|: none detected |NIC|: #1 (Linksys LNE100TX Fast Ethernet Adapter(LNE100TX v4) NDIS5 Driver (100Mb/s) 778.31MB In, 32.43MB Out) |FREE SPACE|: 46.72 GB of 80GB ( 60.93 % )
<Pablo`sleep> [Temps & RPM's] Case Temp: 30°C, 1 Athlon 1.4Ghz, CPU(1): 44°C, Fan(1): 7500RPM, Fan(2): 2393RPM